Today's blog post introduces you to Alexandra Cartier, the founder and CEO of Vü. Vü is looking to bridge the gap between those who can and cannot hear. Members of the Deaf or Hard of Hearing community (DHH) experience lower rates of graduation and higher rates of unemployment or underemployment. However, Cartier and her company, Vü, intend to change that.
Vü is a patent-pending portable device that slips into one's pocket that pairs with their wearable glasses enabling the wearer to see text from conversations and where the speaker is located. The real-time speech translation not only allows DHH individuals to keep up with the conversation but allows for active participation anytime, anywhere.
The pandemic has hit every community very hard but has hit the DHH community harder than most. Wearing masks has made it impossible to lip read and ultimately communicate with those who do not sign. Vü would allow members of the DHH to communicate even with the use of masks. In this article we touch on how Cartier came up with the idea for Vü, how she thinks her products will impact the DHH community, and tips, tricks, and advice from an inventor turned entrepreneur.
What is your background and how long have you been involved with this industry?
My background is in accessibility and technology and I have been researching and planning the launch of my start up since 2000.
Where are you located?
Baird Research Park, Amherst NY
How did your idea come about? How did you get started in your business?
My idea came about when I was watching a movie and could not follow the audio. I thought of the idea to have glasses to capture audio and read content when captioning is unavailable.
How do you expect Vü to impact the DHH community?
Our patent-pending affordable smart technology will allow members of the DHH community to stay on track in school, enjoy gainful employment, and best of all, join in social groups without missing a beat in the conversation. Our real-time speech translations enable the user to actively follow and engage in group conversations without depending on others to help them understand what is said. We want to accomplish inclusive communication for all individuals who are Deaf or Hard of Hearing enabling them to communicate with anyone, anytime, anywhere.
What is your favorite aspect of being an entrepreneur?
Thinking big, giving back to others, and being a part of a family of entrepreneurs. All of my family members have businesses. It's not a hobby – it's a lifestyle.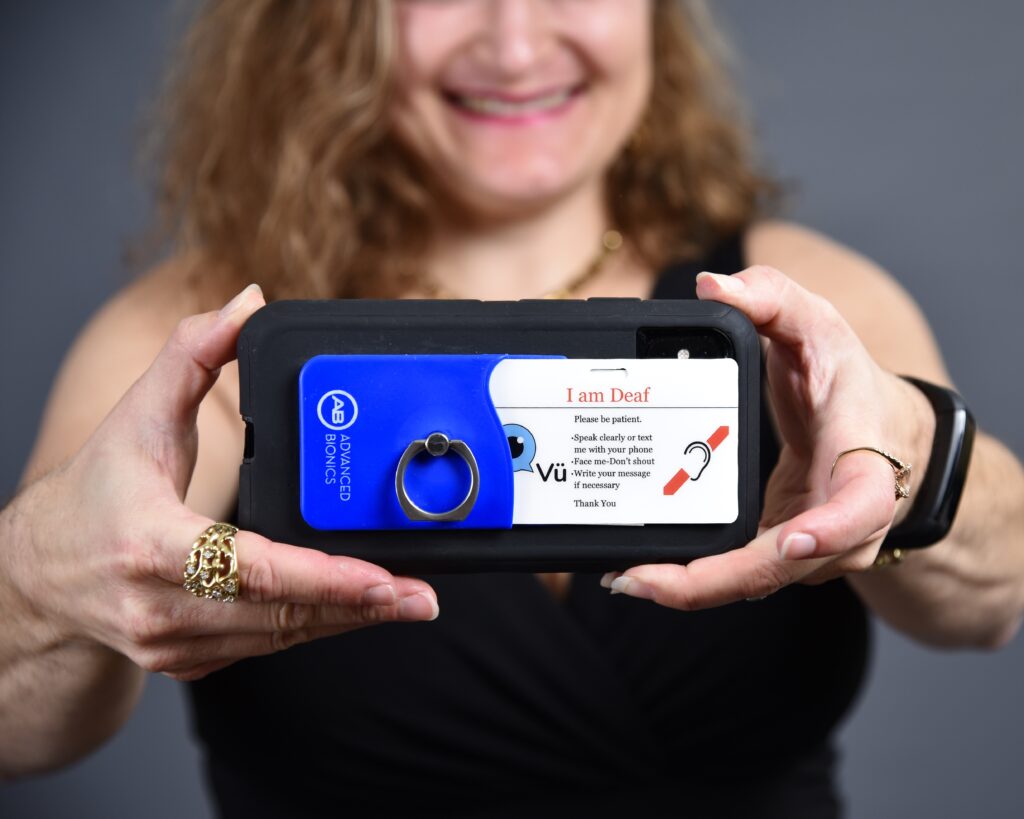 What are your top 3 skills you believe are needed to be a successful entrepreneur?
Humble yourself to understand what is your mission and vision are – why should people support you?
You must be wired to be set apart. Be able to take risks and move forward when setbacks occur
Be ready to put on several hats. Being flexible and willing to change and learn from your mistakes is a must.
As a startup entrepreneur what type of lessons could you give to inventors and people with new ideas as to how to bring their ideas to fruition?
Build relationships with your investors and have mentors or business coaches ready to help in planning and outreach.
Were you familiar with any of the laws regarding patent, copyright, and trademark law or licensing before starting your business?
I knew that it was important to protect your ideas with a patent or trademark.
What is one of your favorite books that inspired you the most and what is your favorite quote?
The Bible is my favorite book and my favorite quote is from the Book of Proverbs: "Fear (Reverence/Honor) of the Lord is the beginning of wisdom and the knowledge of the Holy One is understanding."
What was the best advice/wisdom you were ever given?
To be a great leader, you must be an excellent follower.
If Cartier's product has caught your attention and you are interested in learning more about Vü please visit their website. Vü is currently a finalist on Pitch.Tech and you can vote for them as one of the most promising pitches.