an (Sonic BoomProduct Review:
Sonic Bomb Jr.  (SBJ525ss)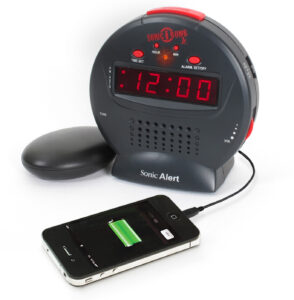 I have been a long-time user of Sonic Alert's products. As technology has expanded and advanced, so has the products for those with hearing loss. In the past, I have used the Original Sonic Boom Clock and Notification Hub (SB1000SS) with the super-sonic bed shaker for well over 10 years and it has done a great job of waking me up over the years. But it was time for an upgrade.
As technology advances, we find ourselves charging not just our cochlear implant batteries, rechargeable hearing aids, cell phones, tablets, laptops and other accessories, sooner or later, we find our nightstands crowded with wires and our hearing accessories. I needed a solution to this problem and that meant a smaller clock with at least one USB charging port and a powerful bed shaker. That's when I stumbled upon the Sonic Bomb Jr. (SBJ525ss) and saw it had exactly what I was looking for to reduce the number of charging bases plugged into my power strip next to my bed.
I have had this product for just about over a year now. In the pictures you will see how I am utilizing it on my nightstand. You can use any type of USB charging cord with different connecting ends such as Type C, mini, Type A and etc.
I don't recommend placing the bed shaker between the mattresses as it will vibrate the entire bed. I usually put it under my pillows, and it wakes me up without vibrating the entire bed! I live on the top floor in my building and if I were to place it under the mattress of my bed, it would shake the vibration downward as I have a very THICK mattress. So, I recommend under the pillows on top of the mattress sheet to get the best shake.
Be sure to use your 40% off VuSpeech code on any regular-priced item Sonic Alert has on their website. Vü is an affiliate partner and receives a small commission to benefit research and development of its patent-pending devices.
P.S. Please be aware that we learned after posting this blog that Sonic Alert has sold out of the SBJ525SS (Sonic Bomb Jr.). It is expected back in inventory by mid-January. There are many more items to select from and you may be able to pre-order this item to ensure you will receive it when it's back in stock. You can contact Sonic Alert to find out.
Nov. 16, 2020 by Gloria M. Matthews